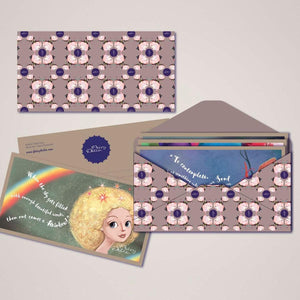 Postcard Album | Set of Art Postcards "Fairy Dalia"
Regular price
€0,00
€35,00
Description
"Fairy Dalia" Art postcards are a great way to express yourself. Whether you are an artist yourself or simply appreciate the beauty of art, postcards are an excellent way to showcase your creativity and artistic talents. You can create your own postcards using your own designs and images, or purchase art postcards from Fairy Dalia.
Send mindful greetings to your friends and loved ones with our unique postcards all made of 100% recycable materials.
• Set: 10 postcards
• Language: English
• Shipping time: 5-10 business days

* All our paper products are produced from mindful materials, printed with non toxic oil paints and certified by FSC.