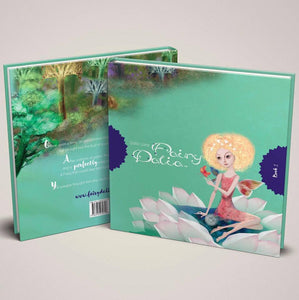 "Fairy Dalia" Book 1
Regular price
€0,00
€30,00
EPub version of the books can be purchased here:
Buy Ebook
The first book of our magical series describes the origins and philosophy of Fairy Dalia who decides to fly to the World of Humans and help them to remember who they really are.
• Hardcover
• Publisher: Dalia Lane Creations LLC (2016), Switzerland
• Language: English
• Pages: 71
• Recommended Age: 5+
• ISBN: 978-3-9524707-1-8
• Shipping time: 5-10 business days

All our products arrive in our magical gift wrapping and packaged with Love.
* Our paper products are produced from mindful materials, printed with non-toxic oil paints and certified by FSC.
Le premier livre de notre série magique décrit les origines et la philosophie de La Fée Dalia qui décide de voler vers le Monde des Humains et de les aider à se souvenir de qui ils sont vraiment.
• Relié
• Éditeur: Dalia Lane Creations LLC (2016), Suisse
• Langue: Français
• Pages: 71
• Âge recommandé: 5+
• ISBN: 978-3-9524707-2-5
• Délai de livraison: 5-10 jours ouvrables
• Frais de port: INCLUS DANS LE PRIX
Tous nos produits sont expédiés dans notre emballage cadeau magique et emballés avec amour.
* Tous nos produits en papier sont fabriqués à partir de matériaux "conscients" imprimés avec des peintures à l'huile non toxiques et certifiés par le FSC.
Первая книга нашей волшебной серии описывает рождение и философию Феи Далии, которая решает полететь в Мир Людей, чтобы помочь им вспомнить, кем они являются на самом деле.
• Твердая обложка
• Издательство: Dalia Lane Creations LLC (2016), Швейцария
• Язык: Русский
• Страницы: 71
• Рекомендуемый возраст: 5+
• ISBN: 978-3-9524707-0-1
• Время доставки: 5-10 рабочих дней
• Стоимость доставки: ДОСТАВКА ВКЛЮЧЕНА 
Все наши товары упакованы с Любовью в волшебные подарочные конверты.
* Все наши печатные изделия производятся из осознанных материалов с использованием красок на натуральной масляной основе и бумаги сертифицированной FSC.
Das erste Buch unserer magischen Serie beschreibt der Ursprung und Philosophie von Fairy Dalia, die beschließt in die Welt der Menschen zu fliegen und ihnen dabei zu helfen, sich zu erinnern, wer sie wirklich sind.
• Gebundene Ausgabe
• Verlag: Dalia Lane Creations LLC (2016), Schweiz
• Sprache: Deutsch
• Seiten: 71
• Empfohlenes Alter: 5+
• ISBN: 978-3-9524707-3-2
• Lieferdauer: 5-10 Arbeitstage
• Versandkosten: IM PREIS INBEGRIFFEN
Alle unsere Bücher kommen in unserer magischen Geschenkverpackung und sind mit viel Liebe verpackt.
* Alle unsere Papierprodukte werden aus achtsamen Materialien hergestellt, mit ungiftigen Ölfarben bedruckt und sind FSC zertifiziert.