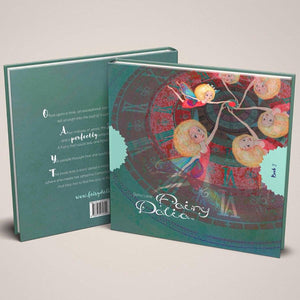 "Fairy Dalia" Book 3
Regular price
€0,00
€45,00

EPub version of the books can be purchased here: Buy Ebook

The third book of our magical series describes the further exciting adventures of Fairy Dalia and the Lonely Rose on their crossing of the Great Ocean. They make friends with a somewhat short-sighted Raspberry-dotted Fish who is looking for the Great Ocean; the Anxious Seagull who is learning how to soar; find the Windrose that demonstrates the Balance of Three Facets; discover the Paddle-Whiskered Whale who brings the travellers to the Island of Lighthouses. By the end of the third book FairyDalia finally reaches the World of Humans.

• Hardcover
• Publisher: Dalia Lane Creations LLC (2017)
• Language: English
• Pages: 157
• Recommended Age: 5+
• ISBN: 978-3-9524707-9-4
• Shipping time: 5-10 business days

All our products arrive in our magical gift wrapping and packaged with Love.

* Our paper products are produced from mindful materials, printed with non-toxic oil paints and certified by FSC.